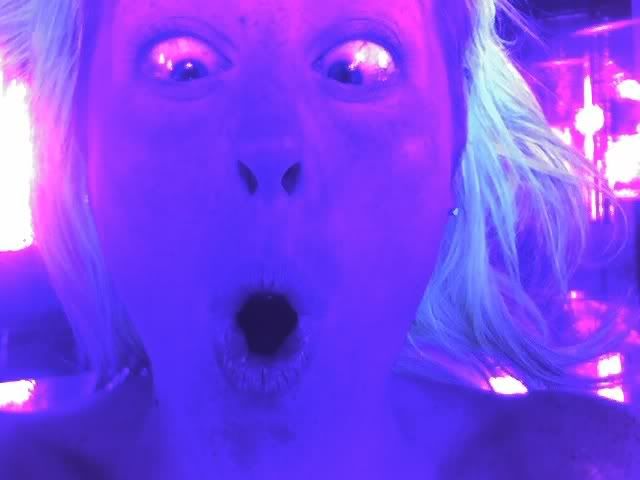 They say that January is the month where people are most likely to feel blue. Bills piling up from over spending at Christmas, the lousy weather, the days still being too short, and realizing you haven't been faithful to even one of your New Years resolutions can make some people feel depressed.
January is also a big month for travel, especially around here. Everyone wants to get away from the cold weather and January is the perfect month to jet somewhere tropical... like my friend here. Now it's a known fact that people don't get a lot of sun up in the NW. So if you're going somewhere warm, you might want to get in a few tanning sessions before you go, so you're skin is use to the sun rays and won't fry like a big ol' slab of bacon. Like Conan O'Brien says of his pale Irish skin... "I wear sunblock 50... it actually shoots rays back up to the sun".
This funny pic was sent to my cell phone by my friend... FROM her tanning bed! She had removed her sexy mini eye protectors and exposes her bare corneas to the gamma rays (or whatever rays are used in tanning beds) just for my sole amusement. Quite frightening, don't you agree? For some reason I just can't stop looking at it. I like how her blond hair looks fright white, how the whites of her eyes look pink... she's a cross between Violet from Willie Wonka and a blue man group blow up doll. So after seeing this picture maybe you're just too scared, amused, or distracted now to be depressed. You're welcome.