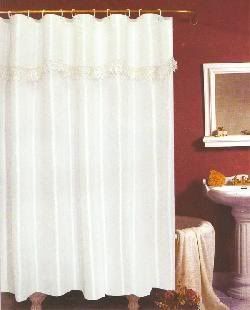 OK, so I've decided to devote the month of May to sharing a little bit of my wacky, sometimes frightening childhood with you. You see I have this father who is a huge piratical joker. He lives for scaring the bejesus out of you and making people freak out. Might I add I'm a grown woman now, but to this DAY am leery of walking down the hallway at my folk's house if I don't know where he happens to be...
One of his favorite things when we were growing up was to hide behind closed shower curtains. You go to the bathroom and get all comfy and situated (yes, he'd wait until you were "in process") then he'd throw back the shower curtain with a gleeful roar and scare the literal crap out of you. Ah good times.
I can't tell you what kind of lasting effect this had on all of us, because my entire life, even if I'm at somebody else's house, I will ALWAYS look behind the shower curtain before using the bathroom. Heck I was 1,850 miles away at college and STILL found myself checking behind curtains just to make sure he wasn't back there. He not only like to hide in the shower, but also just to stand in the darkened doorway of the bathroom with the hall lights off and wait for one of us unsuspecting kids to come down the hall and walk INTO him. Quite frightening. Sometimes he was just his plain self, other times he used "the mask".
I must tell you about the "mask" in it's own blog, because it was a big part of my childhood but it definitely needs it's own space of reflection. Anyway, now I'm grown up and live in my own house and I have an opaque glass shower door, which is perfect because you can not only always see IN to it but OUT of it as well. Very important.